12 May 2022
Tour explores opportunities and impediments for forestry
Six officials from the Federal Department of Agriculture, Water and the Environment (DAWE) were given a first-hand look at the importance of the timber industry on a tour of the Tumut/Tumbarumba region organised by the Murray Region Forestry Hub (MRFH).
The MRFH is one of 11 Commonwealth funded regional forestry hubs set up across Australia to explore the impediments and opportunities to developing the timber industry.
Murray Hub's Executive Officer Phil Clements said DAWE provided funding for the hubs, so it was vital that the department had a good understanding of the role of the MRFH, the importance of the forestry industry in the region, and the challenges it faces.
The six attendees were Emma Campbell, First Assistant Secretary (Agvet Chemicals, Fisheries, Forestry and Engagement Division), Luke Bulkeley, acting Director Plantations and Innovation, Nick Covey, Assistant Director Plantations and Innovation, Erin Walsh, Policy Officer Native Forest Policy, Taylor Duke, Assistant Director International Forest Policy, and Emma Sikanic, Assistant Director, Native Forest Policy.
"The tour was an opportunity for these officials to take a look at the extent and scale of ongoing forestry operations and also the magnitude of the damage caused by the 2019/20 fires, which burnt about 48,000 hectares of pine plantations in the Tumut/Tumbarumba region," Mr Clements said.
"While the industry has taken a big hit with the fires, it is still the main employer in the region and the largest contributor to the socio-economic well-being of the region."
The tour covered plantation establishment, weed control, environmental works, harvesting and haulage, with visits to Blowering Nursery, Hyne's mill at Tumbarumba and Visy's mill at Tumut.
"The visitors found the tour highly beneficial for their roles at an administrative level and were particularly impressed by the size and technology of the regional timber industry," Mr Clements said.
Tour attendee Luke Bulkeley said the tour was very comprehensive and showed us from seedlings right through to harvesting and processing.
"It was a rewarding visit as the hub continues on following the bush fire recovery," he said.
Media contact Sarah Chester 0417 207 669.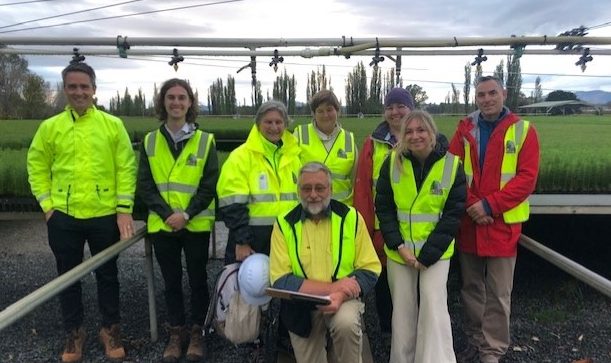 Photo caption: Luke Bulkeley, Taylor Duke, Diana Gibbs (MRFH), Phil Green (Forestry Corporation of NSW (FCNSW)), Emma Campbell, Erin Walsh, Emma Sikanic and Nick Covey visited FCNSW Blowering Nursery as part of MRFH's timber industry tour for DAWE.