About the Forestry Hub
Our Membership
The Murray Region Forestry Hub is made up of the following members:
Four local councils (Snowy Valleys Council, Cootamundra- Gundagai Regional Council, Greater Hume Shire Council, Albury City)
Forestry Corp NSW, Hume Forests, HVP, (Forest Growers)
Forest Industry Council (Representing harvesting & haulage contractors)
Hyne Timber Tumbarumba, AKD Sawmills Tumut, and Visy Tumut (Processors)
Department of Regional NSW
Transport for NSW
Regional Development Australia (Riverina and Murray)
This is largely the same as the membership of the Softwoods Working Group.  Other Victorian processors and local government areas are also part of the Hub but are not yet part of the Hub Committee.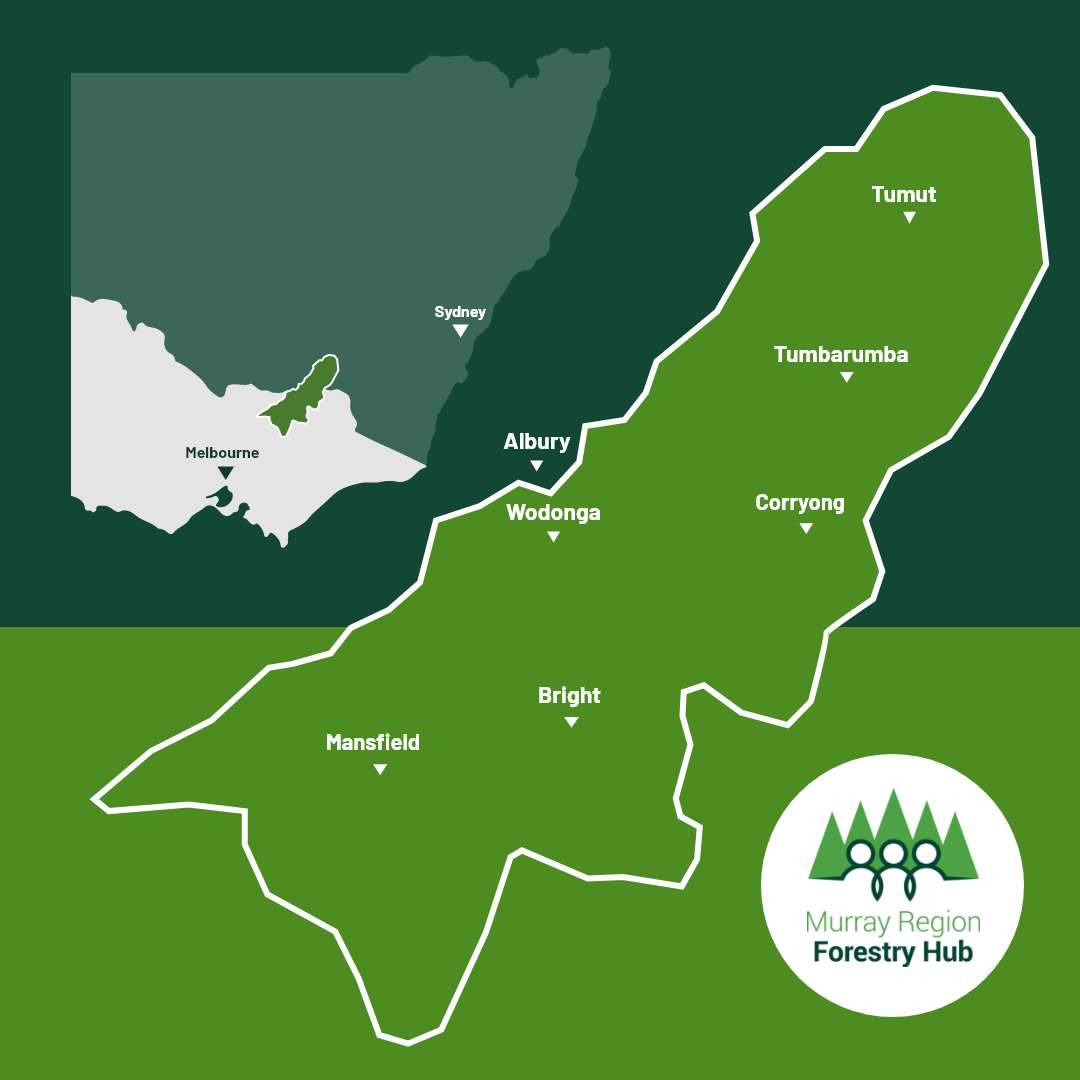 Peter Crowe OAM

Chair of the Hub

Peter Crowe OAM

Chair of the Hub

Peter is a graduate of Sydney University and the Australian Forestry School (Canberra). He was employed by the NSW Forest Service (Forestry Commission, State Forests NSW and Forests NSW) and served in various roles as a professional forester for over 40 years.

He has extensive field and managerial experience in the native forest (hardwood) and pine plantation (softwood) sectors. His career with the NSW government culminated with his appointment as the Executive General Manager of the NSW plantations estate from 2001 to 2006.

Since 2006 Peter has been a director in his own consulting business, servicing national and international clients and has travelled regularly and extensively to forest and plantation areas in South America, Scandinavia, South Africa, the UK and New Zealand.

Other organisations that he has served with include:

NZ Radiata Pine Breeding Co-Operative (Director)
Murray Regional Development Board
RDA-Murray (Chair)
Murray Catchment Management Committee
Enviro Forest Solutions (Director)
Coffs Harbour and Thurgoona Golf Clubs (President/Director)

He is currently the Chair of the Softwoods Working Group and is a Fellow of the institute of Foresters of Australia and a recipient of the NSW Public Service Medal. In 2021 he was awarded an OAM for services to the forest industry.

Close

Phil Clements

Executive Officer

Phil Clements

Executive Officer

Phil is a forester and has been a Director of his own consultancy business since December 2006. He provides project management and advisory services to the forestry/timber and transport sectors.
He has extensive experience in both the public and private sectors having held senior positions in large government and private corporations (in Aust and PNG) as well as smaller family businesses. Phil's experience covers all aspects of the timber industry from growing through to processing (in both native and plantation forests) as well as considerable experience in the supply, logistics and transport (principally rail) sectors.
He has also held voluntary leadership positions with various community and sporting organisations over many years.

Close

Diana Gibbs

Economic Advisor

Diana Gibbs

Economic Advisor

Diana Gibbs is a resource economist with over forty years' experience. She has worked throughout Australia, and also in the Middle East and Africa, for wide range of corporate and public sector clients. She has had a long association with the NSW timber industry, particularly in relation to regional economic impact. She holds degrees in resource economics and environmental economics, and a Graduate Diploma from the Australian Institute of Company Directors.

In addition to her role as Principal of Diana Gibbs & Partners (strategic planning and economic development consultants).

Diana also holds part-time positions as:

Director, Agrifutures Australia
Director, Australian Forest Products Association
Director, Riverina Local Land Services

In the recent past, she has also served as Chair, Regional Development Australia (2015-18), and as a Member (Director) of the Murray Darling Basin Authority (2011-16), and as a Director of the NSW Rural Assistance Authority (2016-19). She has previously served as a Director of many other bodies involved in regional development and research relating to rural industries. She was awarded the Rural Women's Award for NSW in 2000, and is a partner in her family farming enterprise outside Wagga Wagga.

Close
Funding
Our Hub is one of 9 that were initially funded in 2019 for three years by the Federal Department of Agriculture, Water and the Environment.
In the May 2021 budget, a further $10.6 million was announced to continue the Forestry Hubs for a further three years and create new Hubs in the Northern Territory and south east NSW.